Credit broker Yes Loans stripped of licence by OFT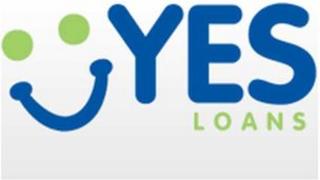 One of the UK's biggest brokers of loans, Yes Loans, could be put out of business after a regulator found that it conducted "deceitful and oppressive" practices.
Its credit licence has been withdrawn by the Office of Fair Trading (OFT), stopping it selling loans.
The OFT said customers were charged fees after handing over debit or credit card details for "identity checks".
Yes Loans said it was considering an appeal and would continue to trade.
But David Fisher, of the OFT, said: "We will take decisive action to tackle businesses that fail to treat people properly, especially the most vulnerable."
'Unfit'
As a credit broker, Yes Loans, based in south Wales, was supposed to introduce people who were looking for a loan to businesses willing to provide this unsecured credit.
The OFT, which has been investigating Yes Loans for some time, found that the business misled some customers into believing that it was a loan provider rather than a credit broker.
It deducted fees from people's cards, without making it clear that a fee was payable, and failed to provide refunds in good time.
In some cases, customers were not matched with the loan they wanted, but to a short-term, high-interest product instead.
After the OFT investigation in 2009, Yes Loans changed some of its practices, and no longer took upfront fees, but the regulator decided that this was not enough to merit a licence.
"Despite these changes, the OFT determined that the evidence of prolonged engagement in deceitful and oppressive business practices, and the continuing presence of some of the staff responsible for running the businesses, makes them unfit to hold a consumer credit licence," the regulator said.
Two associated businesses - Blue Sky Personal Finance Limited and Money Worries Limited - have also been stripped of their credit licences.
The businesses have 28 days to appeal against the OFT's decision, during which time they can continue to trade under licence.
A spokesman for the businesses said they were "disappointed and saddened" by the OFT's action.
"We have all worked tirelessly to implement significant and fundamental advancements to the businesses. We are disappointed that, despite recognising this, the OFT has decided to revoke the licences of three long-standing businesses," the spokesman said.
"We are currently taking advice with regard to lodging an appeal against the decision. No jobs are at risk within the companies concerned, regardless of the outcome of any appeal."
He said that staff could move to other companies on the site.
'Ecstatic'
Yes Loans claimed to process more than 50,000 personal loan applications a month, matching customers to unsecured loans of between £250 and £25,000, for an arrangement fee of, typically, £69.50.
However, a number of customers complained that they had not been treated fairly.
They included Sarah Stocks, of Plymouth, who said that she had been shopping around for a loan to buy a car. She was charged an administration fee, despite the fact that no loan could be found for her.
She said it took months to secure a refund.
"I am ecstatic that they have been stopped, it is great news," she said.
The Financial Ombudsman Service said that 83% of the complaints it received about Yes Loans were upheld in favour of the customers in the last six months of 2011.
It formally investigated 133 complaints made about Yes Loans in 2011.
Earlier this week, a committee of MPs said that parts of the credit industry were "opaque and poorly regulated" and swift action was required from the government.