ECB leaves key eurozone rate unchanged at 1%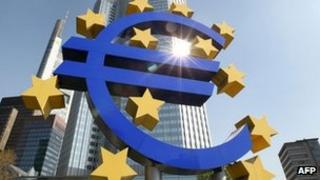 The European Central Bank (ECB) has left its benchmark interest rate unchanged at 1%.
The bank has not moved rates since November, when it made its second consecutive rate cut.
But the central bank has been providing banks throughout Europe with hundreds of billions in low-interest loans.
ECB president Mario Draghi insisted that its various measures to flood financial markets with cheap cash was an "unquestioned success".
The ECB also now thinks the eurozone will fail to grow this year.
It now expects the eurozone to shrink by 0.1% in 2012, compared with its previous forecast of growth of 0.3%.
"The risk environment has improved enormously," Mr Draghi said in his monthly press conference following the decision. "Markets have reopened."
Since the ECB started buying the government bonds of countries such as Italy and Spain last year and began lending to banks, borrowing costs for governments in the eurozone have fallen.
It is hoped the central bank's current system of low-cost loans will help boost lending in the 17-member eurozone, which has been hit by the ongoing debt crisis.
The ECB provided 530bn euros ($713bn; £448bn) of low-interest loans to 800 banks across the whole of the European Union last month - including 37.4bn euros to UK banks.
It is the second time the ECB has offered such three-year loans, coming after 489bn euros were lent out in December.