Singapore Airlines offers no-pay leave to pilots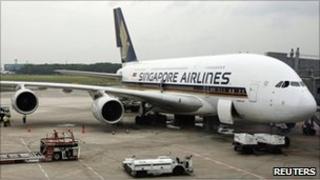 Singapore Airlines has offered no-pay leave to its pilots for as long as two years amid a slowdown in its business.
The move comes just weeks after the carrier reported a 53% drop in net profit during the last three month of 2011 compared to a year earlier.
The carrier said that its growth had been slower-than-expected, resulting in a "surplus pilot situation".
The pilots who opt for the scheme will be allowed to work for other carriers during the period.
"This scheme will enable us to address the short-term surplus, while at the same time provide staff with the opportunity to take leave for personal reasons, should they wish to do so," Singapore Airlines said in a statement.
'Very challenging'
Airlines across the globe have been facing a tough time as several economic factors have hurt their fortunes.
The debt crisis in the eurozone and a slow economic recovery in the United States has hurt demand in those regions, which are both key markets for Singapore Airlines.
At the same time, volatile fuel prices have also dented the earnings of carriers.
Analysts said these uncertainties had especially hurt premium carriers such as Singapore Airlines.
"The outlook for the firm is very challenging. They are seeing a significant erosion of their margins especially in Europe where things haven't been looking good," Shukor Yusof of Standard & Poor's told the BBC.
"When you reach a position that you have to ask your pilots to take voluntary leave, all the indications are that things are pretty rough."