Car insurance postcode blacklist could deprive drivers of cover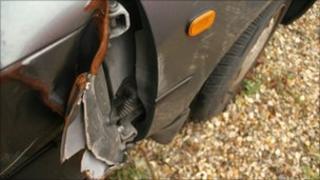 If you are moving home, a car insurer may refuse to cover you at your new address if it considers the area too high risk.
John Cooper has insured his car at the same address in north London with different insurers pretty much constantly since 1996 without any problem.
Three years ago, he moved temporarily to Exeter where he insured his car with The Co-operative Insurance. Then, when he moved back to his north London address last month, he phoned The Co-operative Insurance to notify them of his change of address.
Mr Cooper knew he would have to pay a much higher premium now he was back living in London, but the insurer's response took him completely by surprise.
Speaking to Radio 4'sMoney Boxprogramme Mr Cooper said: "They said my address is uninsurable. They said my insurance was void. I suddenly thought of my car out on the street."
Mr Cooper asked if there was any grace period during which he could arrange new insurance, but he was told there was not.
He therefore cancelled his insurance and was then told he would have to pay a cancellation fee.
Mr Cooper was able to get cover from another insurer within a few hours, although he saw his premium rise from the £380 he was paying in Exeter to £980, now he was back in north London.
However, AA Insurance told Money Box that 14 out of 26 insurers on their panel would not insure a vehicle registered at the same north London address.
Mr Cooper is very unhappy that The Co-operative Insurance left him without cover at an address other firms were prepared to insure without a problem: "I think the mechanism they have in place at the moment is just wrong. It really isn't fair."
Finding alternative cover
The Co-operative Insurance said it was prepared to refund the cancellation fee they had charged Mr Cooper for the early termination of his policy and it apologised for any inconvenience caused.
In a statement, the company told the BBC: "In this instance, the combination of the postcode area and where the car was kept overnight (on a public highway) meant that we could no longer offer Mr Cooper cover for his vehicle.
"It was unfortunate that Mr Cooper had already relocated before letting us know his intention to move property as we then had no option but to cancel his policy with immediate effect."
Graeme Trudgill, from the British Insurance Brokers' Association (Biba), believes firms should give a reasonable amount of time for customers like Mr Cooper to find alternative cover: "It's not something we like to see. We believe insurers should give reasonable notice for that person to find some alternative cover, particularly with motor insurance which is compulsory."
Jack Straw, the MP for Blackburn, believes it is unfair for insurers to use postcodes to determine who can and who cannot get cover.
In September he introduced a bill which said instead of postcodes, risk should be assessed on which region of the country people live in: "This gentleman who moved to Exeter and then back to London has absolutely no control over the costs of that risk.
"If there were a change in the law which affected all insurance companies evenly, then the risk would be spread evenly."
Malcolm Tarling, from the Association of British Insurers, believes the majority of motorists can get a good choice of cover: "The likelihood of not being able to get insurance because of your postcode is not that common.
"You should always tell your insurer if you are moving from one area of the country to another."
Money Boxis broadcast on Saturdays at 12:00 GMT onBBC Radio 4and repeated on Sundays at 21:00 GMT. You can listen again via theBBC iPlayeror by downloading Money Boxpodcast.