India factory output rises by 6.8%, easing growth fears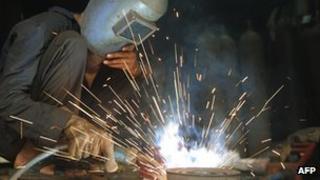 India's industrial production grew by 6.8% in January from a year earlier, easing concerns about a slowdown in its economy.
The growth was led by an 8.5% expansion in the manufacturing sector.
This comes just days after data showed India's economy grew by 6.1% in the last three months of 2011, its weakest pace in nearly three years.
A global slowdown and a series of interest rate rises aimed at reining in high prices have hurt India's growth.
On Friday, the Reserve Bank of India (RBI) cut the amount of money that banks must hold in reserve in a bid to encourage lending and boost growth.
The central bank reduced the cash reserve ratio to 4.75% from 5.5%.
That had prompted speculation that the central bank may cut its key interest rate when it meets to review its monetary policy later this week.
However, analysts said the better-than-expected industrial production numbers may prompt the bank to leave the cost of borrowing unchanged for now.
"This is much above people's expectations, but I don't think it will have an immediate impact on the RBI's rate decision," said Ashok Gautam of Axis Bank in Mumbai.
"The central bank is certainly going to wait for the budget and the government's borrowing programme for the next year and what is going to be the (fiscal) deficit number."
The government will present its budget for the next financial year on Friday, 16 March.