Bank director says new financial rules 'groundbreaking'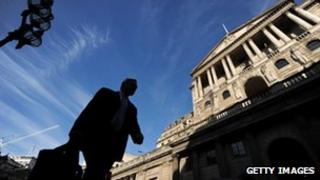 Bank of England director Paul Fisher says the bank's new financial regulations are "truly groundbreaking".
Mr Fisher is the Bank's executive director of markets and also sits on both the Monetary Policy Committee and the Financial Policy Committee (FPC).
He made the remark in a speech on Monday evening.
The FPC is being established as part of a wide-ranging overhaul of the UK's financial regulation and will come into being as part of a new bill.
The Financial Services Bill will overhaul regulation of the sector.
The FPC held its first meeting in June last year, and from 2013 it will be the body taking the broadest overview of financial regulation in the UK.
It will tackle problems that affect the whole financial system rather than just individual firms.
One aim is to prevent a repeat of the Northern Rock collapse.
Mr Fisher said there was little the Bank could have done to prevent the build-up of leverage and unsustainable debt in the run-up to the financial crisis which began in 2007.
He said policymakers could not achieve two different policy objectives with a single policy instrument, and that raising interest rates to deter banks from building up leverage would have caused a separate problem in dampening down inflation too much.
'Tough ask'
He said the new system offered by the FPC would involve detecting and reducing threats to the financial system as a whole, ensuring the flow of financial services to the wider economy is maintained.
He said it was a "tough ask" and could never be perfect, adding: "Just as monetary policy makers will never be able to abolish the business cycle, financial policy makers will never be able to abolish the credit cycle."
Mr Fisher added that the FPC should, however, make the system as a whole more resilient.
The bill will replace the so-called Tripartite structure, introduced by the previous Labour government.
The structure was made up of the FSA, the Treasury and the Bank of England, a system which Chancellor George Osborne said was "incoherent" and "without clear lines of accountability".
One major change will see the abolition of the Financial Services Authority and the creation of three new bodies, the first two within the Bank of England, to regulate financial services:
the Financial Policy Committee (FPC), which will have overall responsibility for financial regulation and monitoring the risks of the financial sector to the economy. It will oversee, and have the power to instruct, two new financial watchdogs.
the Prudential Regulation Authority (PRA), which will take over responsibility for supervising the safety and soundness of individual financial firms.
the Financial Conduct Authority (FCA), which will be tasked with protecting consumers from sharp practices, and making sure that workers in the financial services sector comply with rules.