German investor confidence most in 21 months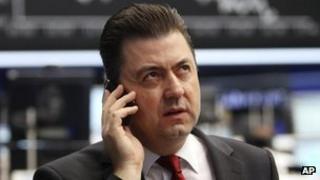 German investor confidence has risen to the highest level since June 2010.
The latest monthly survey from the ZEW institute rose to 22.3 in March, up from 5.4 in the previous month.
"Currently, it seems as if the crisis in the eurozone has taken a pause for breath," the institute said.
Germany, the biggest economy in Europe, has been booming while some of its neighbours, such as Spain and Italy, have struggled to grow and pay off their huge debts.
"In Germany, due to the good employment situation, domestic demand is likely to continue to stimulate growth," ZEW said.
"Nevertheless, risks remain due to the low business activity in important European countries and the disruptions in the banking sector."
The European Commission predicts that the 17 countries in the eurozone will contract by 0.3% in 2012 - with the biggest drag being Greece, now expected to see a 4.4% decline.
"Increasingly, officials fear recession more than debt and deficits," the BBC's Europe editor Gavin Hewitt said.
Spain is also expected to contract by 1% this year.
But Germany has had the largest growth of the eurozone nations - at 3% in 2011 - and has weathered the debt crisis more easily, fuelled by exports.