US Federal Reserve says financial strains have eased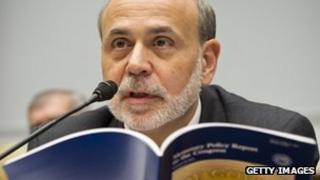 The US central bank, the Federal Reserve, made no change to monetary policy at its latest meeting, noting that recent financial market strains have eased.
The Fed said the US economy was "expanding moderately", unchanged from its last policy meeting in January.
Recent economic data from the US showed continuing strong jobs growth and rising retail sales.
But the Fed said growth still faced significant downside risks.
It said it expects moderate economic growth over coming quarters but there remained potential threats to economic progress: "Strains in global financial markets have eased, though they continue to pose significant downside risks to the economic outlook."
The Federal Reserve also said the job market had improved but unemployment remained high.
Figures last week showed unemployment running at 8.3%, down from above 9%.
It repeated that interest rates would remain negligible until at least late 2014, although high energy prices would temporarily push up inflation.
As in the UK, the US central bank has tried to support the economy by quantitative easing - buying in $2.3tn in government bonds.
There was no mention of conducting more of this, but many analysts believe the Fed will launch more bond buying later this year in a process referred to as QE3.
John Cannally, investment strategist at LPL Financial in Boston, called the statement "a snoozer".
He said: "No new news, they didn't say they were going to do QE3 and they didn't say they were not going to do QE3.
"They just kind of said, 'well, this is what we see - tune in next month.'"