Make Nest pension scheme more attractive, MPs say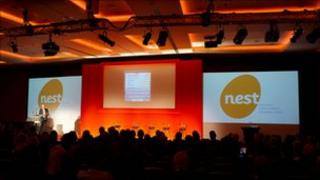 Rules governing the National Employment Savings Trust (Nest) pension scheme should be relaxed to make it more attractive, a committee of MPs says.
Nest is a key part of the government's plan to automatically enrol millions of workers into a pension scheme.
MPs say there should be no limit on how much people can pay in, and that Nest should accept the transfer in of existing pension pots.
The government said it would consider the recommendations carefully.
"The Committee specifically raises concerns on NEST restrictions and we've said that we're reflecting on these," said the Department for Work and Pensions in a statement.
Dame Anne Begg MP, chair of the Work and Pensions Committee which made the recommendations, said lifting the limit on payments should encourage employers to choose Nest as their pension scheme.
"Making it easier for employees to bring together the other small pension pots they are likely to have... will help reduce the multiple administrative charges that many people pay and help them to understand the total retirement savings they will have built up," she added.
How it will work
Under the plans for automatic enrolment into pension schemes, workers and employers will pay in contributions to Nest as a percentage of their earnings.
The alternative will be to automatically enrol staff in existing company pension schemes instead.
In both cases minimum contributions will be based on earnings between lower and upper limits, likely to be set between £5,564 and £39,853 in the new tax year.
Additionally, there will also be an annual limit on the combined employee and employer contributions of £4,400.
The MPs fear this annual limit might deter employers signing up their higher paid staff if their contributions would be above it.
That situation would effectively require the employers to have an additional pension scheme just for the top slice of their staff's earnings.
Also, under the current rules people who join Nest will not be able to transfer in savings from previous pension schemes.
Nest said it was up to the government to decide if the rules should be altered.
"The debate now is whether it's a benefit or a detriment to retain [the restriction]," said Tim Jones, chief executive of Nest.
"There is some evidence to suggest that the restrictions are having detrimental effects and unintended consequences, for example by restricting employer choice and preventing members in our target market having access to Nest," he added.
The beginning
Nest started in a "soft-launch" last year and has begun to let about 130 employers sign up, letting them offer the scheme to their staff on a voluntary basis.
However, automatic enrolment will soon become obligatory for all employers, in aphased processthat starts this autumn. It will apply to the very largest employers from October 2012.
Firms will either have to ensure that all their eligible staff join their current employer sponsored pension scheme - assuming it meets minimum standards - or recruit them into Nest instead.
The government hopes that once the automatic enrolment process is in full effect, by the middle of 2017, between four and eight million extra workers will be paying into a pension scheme who are not currently doing so.
Michelle Mitchell, of the charity Age UK, urged the government to accept the MPs' recommendations.
"Lifting the ban on transfers so that small pension pots can be consolidated and removing the cap on annual contributions will make auto-enrolment easier and more cost-effective for millions of people on lower earnings," she said.
Rudi Smith of Towers Watson said: "At the same time as chewing over whether to keep these restrictions, the government is contemplating making Nest an automatic destination for people's pension savings when they leave an employer after a short period."
"The big question is whether ministers have any qualms about a large share of the country's pension saving ending up in one place," he added.