Boeing denies Air India's $500m compensation claims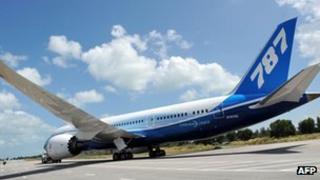 Boeing has denied claims by the Indian government that it had agreed to pay compensation to Air India for delays to aircraft deliveries.
Prashant Sukul of the Ministry of Civil Aviation had claimed that "two weeks back they agreed to pay" $500m (£319m).
The carrier has been seeking compensation for delays in the delivery of planes it ordered in 2005, including 27 Boeing 787s.
Deliveries of the 787 Dreamliner have been delayed for three years.
However, Boeing said it had not agreed any such deal.
"We don't comment on deals that we've done. But I can tell you we're not writing anybody a cheque for $500m," said Jim Albaugh, chief executive of Boeing.
Catch-up?
Despite the delivery delays, the 787 Dreamliner has been a big success for Boeing.
It has received more than 800 orders for the plane, which the firm claims is 20% more fuel efficient than other similar-sized planes currently on the market.
With oil prices remaining high due to political tensions in the Middle East, demand for fuel-efficient planes is likely to increase.
Boeing has said that it plans to accelerate production of the 787 to 10 per month from next year to clear the backlog of orders and ensure future delivery schedules are met.
Some critics have raised doubts about whether Boeing can achieve that, but the planemaker said it was confident it could meet its targets.
"I see nothing to date that leads me to believe that we won't deliver all the 787s we have in our plan by the end of the year," said Mr Albaugh.