Standard Chartered banker detained by China authorities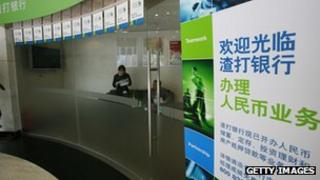 China has detained Wu Yidian Eden, an employee of Standard Chartered Bank, as part of an investigation into one of her clients.
Ms Wu was detained by police on 6 March, but has not been charged with any crime.
A client of Ms Wu has been accused of fleeing China after stealing almost $50m (£32m) from a state-owned bank.
Standard Chartered Bank confirmed that Ms Wu has been detained but said the bank was not under any investigation.
Ms Tan's fiance spoke to the Financial Times newspaper, claiming that she was "was under investigation for harbouring a fugitive - the fugitive being the bank thief, and her harbouring was withholding information from the police that could be used to find him".
According to various reports, Ms Wu's client was a former executive of the Agricultural Bank of China, one of China's biggest state-owned lenders.