Industry leaders react to India's latest budget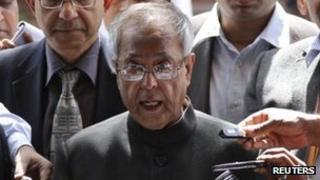 India's Finance Minister Pranab Mukherjee has presented the country's latest budget amid signs of slowing economic growth and increasing pressure on the government to reduce its fiscal deficit.
Mr Mukherjee said while growth had been "disappointing" in the current financial year, the economy was starting to turn around.
He forecast an expansion of 6.9% for the current year and 7.6% for the next the financial year. The finance minister said the government will also look to cut subsidies in a bid to reduce the deficit.
The budget received a mixed reaction from industry.
While some analysts and industry leaders have called it balanced, others have said that the finance minister played it safe amid political pressure.
Rana Kapoor, managing director YES Bank
There are many positives in the budget, which has been a very difficult budget for the government. It is a realistic budget.
While the fiscal consolidation target of 5.1% is a little higher than comfort levels, it is fairly achievable if the subsidy burdens are curtailed efficiently.
Good channelization of funds towards social and rural development, including skills development and education, is a strong positive and will yield results in mid to long term.
Infrastructure, which has been a key bottleneck gets a breather as infrastructure tax-free bonds would be doubled in the coming year giving a tremendous impetus to almost all sectors.
It is likely that the gross domestic product growth this year will be driven through increase in investments. However, execution of the above will be key, as the markets will closely watch the detailing.
Sunil Duggal, chief executive Dabur India Limited
Mr. Pranab Mukherjee's Union Budget 2012-13 is neither a populist nor a reformist act.
It's more directed at maintaining a status quo rather than providing that much required thrust to take forward the reforms agenda.
There are some positives in the budget by way of a 2% cap on subsidies and its progressive reduction over the next few years, greater focus on infrastructure, promise to curb black money and capital market reforms.
It is heartening to see that the government has recognised the importance of infrastructure for future growth and is taking steps to augment infrastructure across the board, be it power, roads or civil aviation.
However, the lost opportunities far outweigh the positives.
There is no consensus or move forward in permitting foreign direct investment (FDI) in multi-brand retail and aviation.
Also, the hike in service tax rate, a 2% increase in standard excise duty and the doubling of customs duty on gold are being seen as highly inflationary steps that may threaten to hurt consumerism.
Ravi Saund, chief operating officer CHD Developers Limited
The steps to increase funding for roads, highways and other infrastructure will surely add more terrain on the Indian realty map taking tier 2 and tier 3 cities on new growth trajectory.
Exempting proceeds from the sale of a residential property from capital gains tax if they are invested in equity or equipment of a small and medium enterprise (SME) definitely provides home owners with more re-investment options.
Companies engaged in infrastructure and affordable housing are in for some heightened activities in the near future as the government opens up funding options for such companies.
Allowing External Commercial Borrowing (ECB) for affordable housing is no doubt an admirable move. This will ensure easy access to funds and better capital availability for developers of affordable housing.
Ankur Bhatia, executive director Bird Group
The budget for 2012-13 is definitely better-than-expected. The finance minister has kept the focus on infrastructure funding and social sector with rational increase in taxes.
Cabinet's decision on reducing the cost of direct import of aviation turbine fuel will help loosen the heavy tax burden on airlines and domestic players will be allowed to tap foreign loans on working capital, which is a very positive move.
Further ECB to recast the debit is beneficial for Indian banks and will work for airlines to reduce the interest burden.
Concession on maintenance, repair and overhaul (MRO) setup will make India very competitive in this sector.
However, 49% of FDI in aviation industry is still under consideration which may impact the overall growth of the sector.
AR Ramakrishnan, managing director Essar Shipping Limited
The customs duty on ships (CVD) which was introduced in the Budget last year has now been notified to be withdrawn with retrospective effect.
This was however implemented soon after the last year's budget itself.
There are positive opportunities that could arise for the Indian shipping industry from the various initiatives announced for the power, steel and ports sectors.
These initiatives will help the specific sectors in their ongoing projects and growth plans.
These sectors being substantial users of Indian shipping services, the support provided to them over the next two to three year period would have a positive impact for shipping companies.