Fiat's future in Italy questioned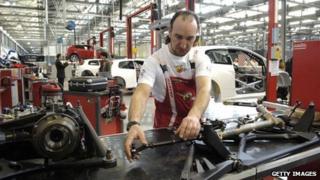 The Italian lorry driver strike is a protest against fuel taxes that push up their costs. As such, their argument is with the government rather than with Fiat.
But Fiat is being hurt by the strike.
It is making it difficult to deliver cars to customers, and it is causing parts shortages in its factories, which makes it difficult to continue producing cars.
So the carmaker has decided to get involved in the brawl.
Chief executive Sergio Marchionne and chairman John Elkann, from the Agnelli family that controls the Fiat group, will meet Prime Minister Mario Monti to discuss the carmaker's future in Italy.
They will no doubt point out that the strike is hurting Italy's exports at a time of economic crisis.
But more importantly, it is becoming clear that Fiat's bosses are increasingly prepared to take on the unions.
Mr Marchionne has long told the unions that he is keen to keep making cars in Italy, but only if its factories there can become globally competitive.
He has urged the unions to accept more flexible labour rules, and in return he has even moved some capacity back to Italy from Poland.
But he has also talked about the possibility of production being moved to the US and Canada, where Fiat's alliance partner Chrysler has plenty of spare capacity in its factories.
Politicians and unions in Italy have seen Mr Marchionne's comments as a threat and some have accused him of not being committed to Italy's industrial revival, which is seen as vital to help the country get through the current economic crisis.
But with car sales in Europe set to fall some 5-6% this year, Mr Marchionne knows full well that Fiat is about to enter a difficult period.
So he is unlikely to scale back his efforts to cut costs and improve efficiency in Fiat's Italian factories anytime soon.