US production and consumer prices rise in February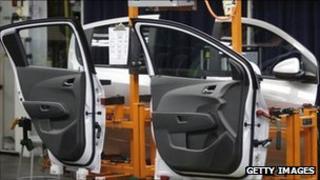 US factory production rose 0.3% in February, the third monthly increase in a row, according to figures from the US Federal Reserve.
Overall industrial production in the US was flat with declines in mining and car manufacturing.
In a separate release, the Labor Department announced that US consumer prices rose by 0.4% in February.
However, 80% of the increase in prices was driven by higher petrol costs, caused by the rising cost of oil.
The rise in prices was the largest in 10 months, but so-called "core" prices - which strip out petrol and energy costs - were almost unchanged, increasing by 0.1%.
The factory data is the latest in a string of positive signs for the US economy, which created a better than expected 227,000 jobs in February, 31,000 of which were in the manufacturing sector.
"If you look over the last few months, manufacturing output growth is actually accelerating, and accelerating to a very strong level," said Paul Ashworth, chief US economist at Capital Economics.