WorldSpreads enters special administration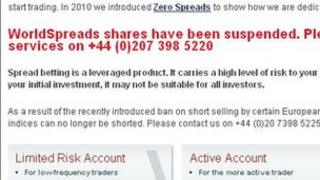 Financial spreadbetting firm WorldSpreads has appointed special administrators following the discovery of accounting irregularities.
The company said in a statement that as at close of business on Friday 16 March, the board of directors believed there was a shortfall of some £13m in clients' money.
The announcement follows the suspension of WorldSpreads' shares on Friday.
On Wednesday, chief executive Conor Foley resigned.
Mr Foley, who co-founded WorldSpreads in 2000, was leaving to pursue other interests, the company said.
His departure comes two weeks after chief financial officer Niall O'Kelly resigned on the day the group issued a profit warning.
Shortfall in accounts
In a statement released on Sunday evening, the Financial Services Authority (FSA) said WorldSpreads had become aware of accounting irregularities on Friday, 16 March.
"Following this it quickly became apparent that the company was unable to continue in business and the directors and their advisers concluded that the best course of action, in order to mitigate losses for clients, would be to place the company into special administration," the FSA said.
It added that while the joint special administrators would review the client cash holdings positions and return as much cash as possible to clients, "any shortfall in the client money accounts will impact the amount of money that can be returned".
WorldSpreads said on Monday that it had appointed KPMG as special administrators.
"Gross amounts owed to clients are approximately £29.7m, whereas the total cash balances available to the company are approximately £16.6m," it revealed.
It said a further statement would be made as and when appropriate.