Deutsche to challenge EU over NYSE Euronext ruling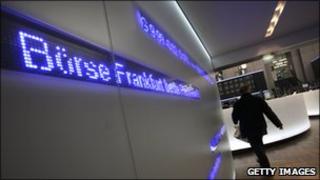 Deutsche Boerse is to legally challenge the European Commission's decision to block its planned merger with stock exchange rival NYSE Euronext.
The two companies called off their merger last month after Brussels objected to the deal on competition grounds.
Deutsche Boerse said on Monday that "several aspects" of the Commission's decision were "incorrect".
It is taking the matter to the European Court of Justice (ECJ).
The ECJ is the highest court in Europe for cases involving the interpretation of European Union law.
The proposed deal between Deutsche Boerse and NYSE Euronext would have created the world's largest stock exchange operator.
However, the Commission said it would have created a "near monopoly" in European financial derivatives.
Deutsche Boerse runs the main German stock market in Frankfurt.
NYSE Euronext runs the New York Stock Exchange, and a number of exchanges in Europe including Paris, Lisbon and Amsterdam.