Gem Diamonds sees 2011 profits triple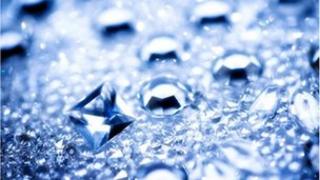 Gem Diamonds said strong demand and a rise in production helped profits to triple giving it an "exceptional year".
The diamond producer, which has its headquarters in London, said production at its Letseng mine in Lesotho in Southern Africa, helped the increase.
It said it was continuing to work on expanding the mine in order to double its capacity by 2014.
Company pre-tax profits came in at $155.7m (£98m, 117.4m euros) in 2011, up from $54.5m a year earlier.
"We continue to see strong demand for our high quality diamonds from both developed and emerging markets, despite the backdrop of challenging times for the global economy," said Gem Diamond's chief executive, Clifford Elphick.
He told the BBC that China was a key source of demand.
Prices for rough diamonds rose in the first half of the year to well above pre-crisis levels thanks to Asian demand, but then fell sharply in the last five months of the year as financial markets suffered.
Gem Diamonds owns two production mines - Letseng and the Ellendale mine in Australia - as well as the Ghaghoo mine under development in Botswana.
It is a major supplier to the upmarket jewellers Tiffany & Co.
That company also released results on Tuesday and forecast higher sales for 2012.
It reported net income of $178.4m for the last quarter of last year, just down from the $181.2m it made a year earlier.
In Asia, same-store sales were 13% higher, with the region now accounting for almost 20% of all sales.
Japan is Tiffany's second-largest market after the US, and business there is continuing to recover from the tsunami and nuclear disaster of a year ago.
Tiffany has 247 stores around the world and is planning to open 24 this year - nine in the Americas, seven in the Asia-Pacific region, five in the United Arab Emirates and three in Europe.