US new home building slows down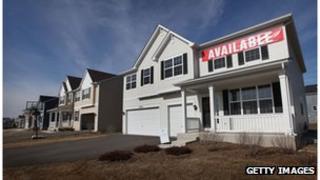 US new home building dipped 1.1% between January and February, according to official US government data.
The rate of new home building was recorded at an annualised rate of 698,000 for the month, according to the US Commerce Department.
The figures indicate a fitful recovery, six years since the housing bubble burst.
The pace of housing starts was 34.7% above the level recorded in February 2010.
January's figure of 699,000 home starts was revised up to 706,000, while building permits, which point towards future home building, rose by 5.1% in January to an annual rate of 717,000, their highest since October 2008.
The US economy is showing signs of weak economic growth but although the jobs market is improving, unemployment remains high at 8.3%.
The current rate of construction is barely half the rate considered healthy.
Builders are competing against used homes sales prices, which are being depressed by the still-high level of foreclosures.