Kingfisher halts overseas operations but keeps licence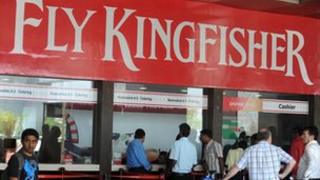 Kingfisher, the cash-strapped Indian airline, will suspend all international operations and cut down on local routes, as it seeks funding.
It comes as the country's aviation regulator said it would not cancel the airline's licence, but that it was monitoring the situation.
Kingfisher, owned by billionaire Vijay Mallya, operates flights to Europe, and countries in Asia.
The airline cancelled dozens of flights recently, as it faces a cash crunch.
Flight disruptions
Kingfisher has been struggling to maintain its day-to-day operations after banks refused to lend more to the debt-laden carrier.
It owes money to airports, tax authorities, lenders and its own staff.
On Tuesday, Kingfisher said it would cut back local flights to between 110-125 a day with a fleet of 20 planes. The carriers had 340 flights a day in October.
It also said it would end all international flights to eight overseas destination by April 10. It comes after the airline was suspended from an international billing facility which hurt its international bookings.
It is the second reduction in services in less than a month for the airline.
The changes are part of an interim plan proposed by Mr Mallya in a meeting with aviation regulators on Tuesday.
License threat
Mr Mallya was asked to give regulators and the government a plan for recovery or risk losing Kingfisher's flying licence.
"We have not submitted an ambitious plan. We have submitted a holding plan," Mr Mallya told reporters after his meeting with Director-General of Civil Aviation (DGCA) chief Bharat Bhushan.
However, the government did not sound convinced of the airline's financial viability.
"The problem is in the last two to three months, he's given so many plans and he's not adhered to any of them," Aviation Minister Ajit Singh told reporters in New Delhi.
Kingfisher shares plunged 5.5% on Tuesday to their lowest level since they began trading.