Sainsbury's sees strong sales in fourth quarter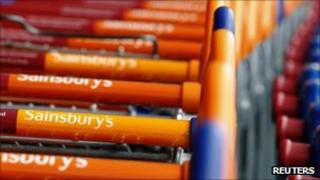 Supermarket group Sainsbury's has announced a rise in annual sales, boosted by a strong performance in the fourth quarter.
Excluding fuel, like-for-like sales, which strip out the effect of new store openings, rose 2.6% in the 10 weeks to 17 March from a year earlier.
That helped push up like-for-like sales for the year to 17 March by 2.1%.
Sainsbury's is the UK's third largest supermarket behind Tesco and Asda, with a market share of 16.6%.
Growth continues
Sainsbury's is optimistic about the year ahead, in spite of ongoing economic difficulties in the broader economy.
"The economic climate is likely to remain challenging, and we are committed to helping customers make their money go as far as possible," said chief executive Justin King.
"Nonetheless, the Diamond Jubilee, Olympics and Paralympics are wonderful opportunities this year for the country to join together and celebrate, and we expect these to underpin our continued growth as customers trust Sainsbury's to make their celebrations really special."
Sainsbury's opened two new supermarkets and 15 new convenience stores in the fourth quarter.
During the year as a whole, it opened 19 new stores and 73 new convenience stores.
It said that its own label products continued to lead the market, with sales of its Basics range rising 10% on the year and Taste the Difference up 20%.