Embraer posts a loss due to American Airlines exposure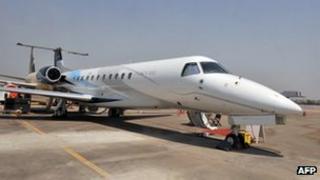 Brazilian aircraft-maker Embraer has posted a $91.8m (£57.5m) quarterly loss due to its exposure to troubled US airline American Airlines.
Embraer made the net loss in the fourth quarter of 2011 after it put aside $366m to cover possible losses caused by American Airlines' parent firm AMR going into bankruptcy protection.
AMR is now continuing talks to reduce the leases it has to pay on its fleet of 216 Embraer aircraft.
Embraer's quarterly revenues rose 3%.
Its revenues for the final three months of 2011 totalled $2bn.
The quarterly loss of $91.98m compared with a profit of $122.7m a year earlier.
US cancellation
Embraer said in a statement that the $366m it had put aside due to AMR "represents the best estimate available based on the current scenario".
Last month, Embraer was also hit by the US Air Force cancelling an order for 20 of its Super Tucano light attack aircraft.
Explaining the decision, US defence bosses said they were unhappy with the documentation supporting the decision to award the contract to Embraer and the Brazilian firm's US partner Sierra Nevada.
The move to reopen the bidding process has allowed US group Hawker Beechcraft back into the contest.