Next says outlook for this year is cautious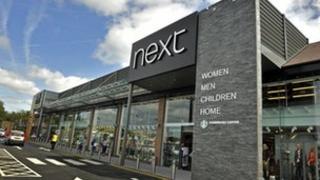 Next has reported another year of record profits, but says it remains cautious about the outlook.
The fashion retailer made a pre-tax profit of £579.5m last year, up 6.2%.
In a statement, the company said the outlook for the year ahead was "very uncertain".
Next said that consumers continued to be squeezed by a lack of credit and the uncertain employment prospects. It forecast that sales would rise between 1% and 4% this year.
Next's chief executive, Simon Wolfson, said that given the conditions last year, the company performed well.
He added: "2011 presented the retail sector with the perfect economic storm. Consumer demand was anaemic, held back by a combination of high inflation, low growth in wages and limited growth in consumer credit."
"Our own input costs rose as soaring cotton prices and overseas wage inflation were passed on by our manufacturers."
Changing demands
Analysts agree that Next is one of the few bright spots on the UK High Street.
"With consumer demand still anaemic at best, many retailers are blindly slashing costs and hoping for the best. Next's triumph has been to continue to listen to its customers and respond to their changing demands," said James McGregor, director of retail consultancy Retail Remedy.
In its annual statement, the company said it had invested £236m in its warehousing capacity and automation over the last 10 years.
As a result, Next says: "Most stocked items can be cost-effectively picked, packed, sorted and ready for despatch from our warehouses within 90 minutes of an order being taken."