Hermes bags record 2011 profits and sales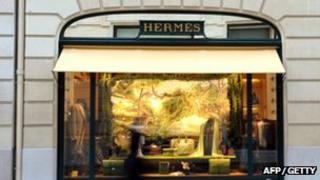 French accessories maker Hermes has reported a record rise in profits and sales, the latest luxury goods firm to be doing well despite the global economic gloom.
The firm, famous for its Birkin bags and scarves, said net profit rose 41% to 594m euros (£495m) in 2011 from a year ago.
Shares rose 2.7% in Paris.
The firm was recently subject to a bitter takeover battle by LVMH, which now owns 22% of it.
Hermes, created in 1837 and still family controlled, has opposed any takeover.
"If I were called LVMH, I would try to buy Hermes," Hermes chief executive Patrick Thomas told French radio.
"I don't say that it's a bad decision, but it's also my job to protect this house."
All luxury goods firms have been boosted by demand from Asia and other regions of the world that are growing much faster than Europe and the US.
LVMH, the world's largest luxury goods group, said last month that its profits rose to 3.1bn euros and the outlook for 2012 was "excellent".
Hermes plans to build two new leather factories in France to cope with demand.
The results included a capital gain of 29.5m euros from the sale of 45% of Jean Paul Gaultier to Spanish company Puig.