Fedex shares fall after firm warns of weaker outlook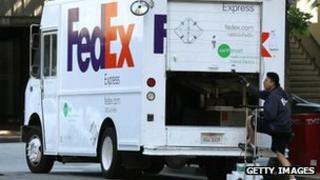 Fedex shares fell 4% after the company said the economic recovery is not as strong as it had hoped.
The giant delivery firm also said that more expensive fuel was prompting customers to choose to send goods overland rather using airfreight.
However, the firm put in a strong performance in the third quarter, with net income more than doubling to $521m and sales rising more than 9%.
Fedex said that the current quarter also looked strong.
"The fourth quarter is still very good, but what we're seeing at the moment is we just don't have as strong an economy as we would have hoped it would be a year ago," chief financial officer Alan Graf told analysts on a conference call.
"The economic environment and the elasticity that we're seeing on our premium services due to high fuel costs are dampening momentum a bit."
Despite the company's slightly gloomy outlook, analysts say Fedex is well positioned.
"This is a very good year for them and quite frankly, it isn't even a year where they're hitting on all cylinders. There's a lot of upside potential for this company," said Art Hatfield, managing director in equity research at Morgan Keegan in Memphis.
"We're looking at a company that's probably pretty close to prior peak earnings, but they're nowhere near operating at peak levels with regards to margins and other things."