US chipmaker Micron reports loss as demand remains soft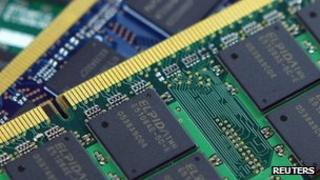 US chipmaker Micron Technology has reported a loss in its first earnings release since the firm's chief executive was killed in a plane crash.
The firm posted a net loss of $224m (£142m) in the three months to 1 March, compared with a profit of $72m a year earlier.
Micron said it was hurt by weaker prices for its products.
However, analysts expect its pricing power to improve after Japanese rival Elpida Memory filed for bankruptcy.
The firms make dynamic random-access memory (DRAM), which are used in personal computers, and NAND chips, which are used in mobile devices.
Elpida accounts for just over 10% of the global production of DRAM chips, and any drop off in output would help ease oversupply in the market and boost earnings at its rivals including Micron.
Micron has been through some difficult months this year, not least when it had to deal with the sudden death of its chief executive officer (CEO) Steven Appleton in February.
However, the current chief executive Mark Durcan was quoted by the Reuters news agency as saying that market conditions were looking brighter for the firm.
According to Reuters, he said that DRAM prices were rising and the supply-demand outlook for NAND chips was also improving.
Micron refused to comment on Japanese media reports that it would bid for Elpida's assets.