Apple could up China investment as Tim Cook visits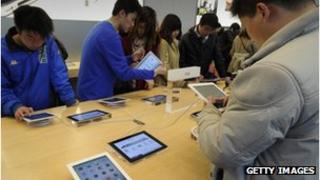 Apple has indicated it will consider higher investments in China, as chief executive Tim Cook visited Beijing to meet Chinese officials.
"China is very important to us and we look forward to even greater investment and growth here," said Carolyn Wu, a Beijing-based Apple spokesperson.
The company did not provide details on the meetings.
This is Mr Cook's first trip to China since taking the top job in August after the death of founder Steve Jobs.
High demand
Analysts said further investment in China was likely to come in the form of more stores, amongst other things.
Apple currently has five stores in mainland China and one in Hong Kong, although some Apple products are offered through other resellers.
Apple's iPhone is currently sold by two telecommunications companies, China Unicom Hong Kong and China Telecom.
"[Mr] Cook will certainly be talking about increasing the number of stores. In the past they were planning an accelerated store roll-out programme," said Robert Clark, an analyst at Electric Speech, an independent technology and telecom consultancy based in Hong Kong.
Apple products are in high demand in China. Earlier this year, the release of the iPhone 4S was marred by angry crowds outside the Apple store in Sanlitun in Beijing.
Customers waiting in line threw eggs and scuffles broke out with police when the store did not open as planned and no iPhone 4S devices were sold.
Tim Cook's visit also comes as Apple is embroiled in legal battles in China over intellectual property rights and faces labour challenges with its Chinese suppliers.
Apple is currently involved in a legal dispute over the trademark for the iPad name in China with local company Proview International Holdings.
The Wall Street Journal has quoted an attorney for Proview saying that no meeting was planned while Mr Cook is in China.
Apple has also faced criticism over the working conditions at its suppliers, mainly Foxconn.