Q&A: Stamp price rises explained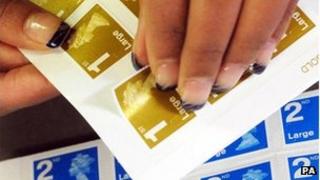 Royal Mail is being given the freedom to set the price of first class and business mail, rather than the regulator.
Ofcom says this will safeguard the universal postal service, which allows post to travel the UK for the same price, no matter where it was posted or is being delivered to.
How much have stamps risen in price?
A first-class stamp has gone up by 30% from 46p to 60p. Second-class stamps has risen by 39%, from 36p to 50p.
Large letters have also risen in price, with the cost of a first-class stamp for a large letter weighing up to 100g being increased from 75p to 90p.
A large letter sent second class costs 69p, rather than 58p.
Royal Mail is also being allowed to set wholesale charges to its competitors for delivery from its sorting offices to the front door.
Are there no limits?
Royal Mail will not be allowed to increase second-class stamps above 55p, although this limit could rise with the annual Consumer Prices Index (CPI) measure of inflation over the next seven years.
There is also a Christmas concession for for consumers on Pension Credit, Employment and Support Allowance or Incapacity Benefit.
They will be able to buy up to 36 stamps this Christmas at the current price.
The price it charges business rivals is also subject to certain limits.
Why has Ofcom allowed the Royal Mail this freedom?
Ofcom says huge changes are affecting the postal industry.
Royal Mail has seen postal volumes fall by 25% since 2006 as electronic and text messaging volumes have risen. They are expected to continue to fall 25-40% in the next five years.
Last year Royal Mail's letters business, from which it gets more than two-thirds of its revenue, lost £120m.
Ofcom said that changes needed to be made to price limits because the future of the universal postal service - which guarantees a single price no matter where in the UK the letter is going - was at "severe risk".
Will price rises be enough to help Royal Mail financially?
Sorting out losses in the letters business is crucial.
Although the parcels business is growing due to the rise in online shopping, this is a much more competitive area, so profits are hard to come by.
Higher stamp prices will bring in more revenue, as long as people do not stop, or significantly cut back on, buying stamps.
Watchdog Consumer Focus warns that a rise in second-class stamps to 50p could see "a noticeable jump" in people abandoning Royal Mail altogether.
For first class, its survey suggested a substantial number of people would stop buying stamps once the price went above 75p. It also pointed out that beyond that point, there was a core of about 10% of people who can't switch to online alternatives and will need to continue to buy stamps.
Experts point out that charging more for stamps won't be enough to stem Royal Mail's losses. It also needs to continue to modernise in order to improve its efficiency.
Will Ofcom still regulate the postal service?
Yes. It will still keep an eye on second-class stamp prices and also some parcel prices.
It also sets delivery targets, stating that 93% of first-class mail must be at its destination the next day, and 98.5% of second-class mail must arrive within three days of posting.
The regulator also said it would keep the ability to intervene in case the new regime does not work.
How does the UK compare with other countries?
According to a recent parliamentary inquiry into the impact of price rises, the UK has the fourth lowest first-class stamp price amongst the core members of the European Union.
Of the EU 15 (those who who joined before 2004), Spain was the lowest at 37p, followed by the Republic of Ireland (42p) and Luxembourg (45p).
The highest price is 69p (Italy), so the price rise has seen the UK jump up the league table now the new prices have come into force.
The UK had the lowest second-class stamp price at 36p, the report said. Greece was the highest at 54p.
What about the longer-term future of the Royal Mail?
An Act of Parliament was passed last year - the Postal Services Act 2011 - which allows for large-scale reform.
It allowed for up to 90% of the business to be sold, with a 10% stake for employees.
A report earlier this week in the Financial Times said the government aimed to do this in the autumn of 2013.
The chief executive of the Royal Mail said this was possible, but that it would most likely take place in the first quarter of 2014, with a share sale the main preference.
It also allowed for the assets and liabilities of the Royal Mail pension scheme to be taken over by the government.
Earlier this month, the European Commission approved the plans to do so, as well as writing off much of the Royal Mail's debt.