Indonesian coal miner Bumi reshuffles the board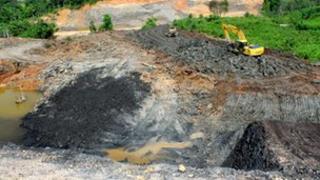 Indonesian coal miner Bumi reshuffled its board as it posted a full-year profit of $280m (£175m).
Samin Tan, president director of PT Borneo Lumbung Energi & Metal, will become a new co-chairman alongside Indra Bakrie.
Mr Tan is one of Bumi's major investors.
In January, he bought half of the mining assets owned by one of Indonesia's most powerful and influential families - the Bakries.
Together they own 29.9% of voting rights in Bumi.
The firm's co-founder and main European investor Nat Rothschild has lost the position as a co-chairman, but will remain on the board as a director.
Chief executive Ari Hudaya was also replaced by Nalin Rathod.
The changes to the board were demanded by Indonesian investors including members of the Bakrie family last month after they had a dispute with Mr Rothschild.
The company made its market debut in London in June.