Unexpected fall in Japanese industrial output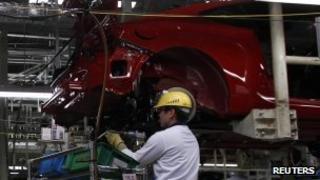 Japan's industrial output unexpectedly fell in February, due to lower overseas demand for cars and electronic goods, official figures have shown.
Production last month declined by 1.2% compared with January, said the Trade Ministry.
Analysts had expected to see output in February increase by 1.3%.
The ministry forecasts a recovery going forward. It predicts growth of 2.6% in March, and 0.7% in April. Commentators also expect output to recover.
Yuichi Kodama, economist at Meiji Yasuda Life Insurance in Tokyo, said: "The improving global economy, mending of supply chains damaged by Thai floods and subsidies for energy efficient cars are likely to support Japanese production in the coming months."
Falling unemployment
Other data released on Friday supports the recovery view.
The country's unemployment rate fell to 4.5% in February from 4.6% in January.
Japan's core consumer price index also rose for the first time in five months to 0.1% in February.
Analysts were expecting a 0.1% decline.
"Japan is still on the course of a mild recovery," Junko Nishioka chief economist at RBS Securities Japan said.
Ms Nishioka expects the unemployment rate to fall to the 4% level over the next six months while the CPI is expected to rise 0.1% in March.