Sun Hung shares fall 13% in Hong Kong after arrests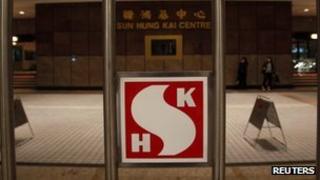 Shares in Sun Hung Kai Properties have fallen sharply in Hong Kong after the arrest of its joint chairmen on suspicion of bribery.
The stock closed 13.1% down on the Hong Kong Stock Exchange on Friday.
Brothers Thomas Kwok and Raymond Kwok were arrested by the Independent Commission Against Corruption (ICAC) on Thursday.
Sun Hung Kai Properties is Hong Kong's biggest property developer by market value.
The company has made the Kwok family one of the richest in the city.
'Negative sentiment'
Barclays Equity Research downgraded Sun Hung Kai shares to "underweight" from "equal weight" after the news of the arrests.
Barclays' price target on the share is 92.16 Hong Kong dollars.
"We suspect that the developments will add further negative sentiment to other stocks in the sector, and we retain our negative view on the Hong Kong property sector," Andrew Lawrence of Barclays said in his report.
However, the company's board has said these latest arrests will not affect the its business operations and the brothers will remain in their current positions.