Roche 'disappointed' by Illumina bid rejection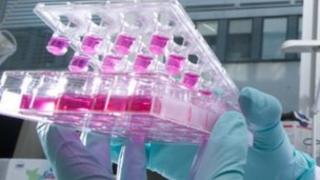 Swiss drug giant Roche says it is disappointed gene sequencing firm Illumina has rejected its latest bid.
Last week Roche raised its offer from $44.50 a share to $51, valuing Illumina at more than $6bn (£3.8bn).
Illumina's gene sequencing technology identifies which treatments suit different patients, and would be a major boost to Roche in building its personalised healthcare business.
After rebuffs from Illumina's board Roche will now appeal to shareholders.
"Roche's increased offer is highly attractive," said Roche chief executive Severin Schwan on Tuesday.
"By not engaging with Roche, Illumina reinforces the notion that its board and management are determined to preserve their positions rather than maximise shareholder value."
Mr Schwan said he hoped Illumina shareholders would "see the substantial value in our increased offer", and vote in favour of directors friendly to its proposals at an Illumina annual meeting on 18 April.
On Tuesday shares in Roche were virtually unchanged.
Illumina shares closed at $51.37 in New York on Monday, down 2.36%.