San Miguel to buy minority stake in Philippine Airlines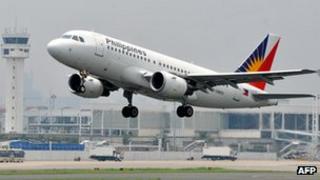 San Miguel has agreed to buy a minority stake in Philippine Airlines (PAL), the country's largest airline and low-cost carrier Air Philippines Corporation.
San Miguel, a dominant player the food and drinks sector, has been expanding its business portfolio in a bid to meet its growth targets.
Meanwhile, PAL has been struggling amid rising fuel costs and weak demand.
The airline had posted a loss of $33.5m (£21m) for the three months to the end of December.
At the same time, competition in the Philippine airline market has also increased with Cebu Air and AirAsia's local affiliate offering cheaper flights to consumers.
San Miguel and Trustmark Holdings, the parent company of PAL, said the deal will help strengthen the airline's operations.
"The new investment will allow the two airlines to strengthen operations and stay competitive with the implementation of PAL and Air Phil's fleet modernization program," the firms said in a joint statement.
The companies did not provide financial details of the deal.