Greece extends debt swap deadline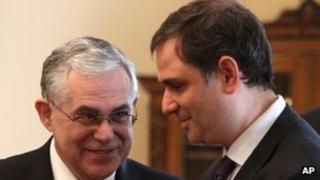 Greece has extended the deadline for its latest debt swap plan for a second time.
The new deadline for bonds governed by foreign law is now 20 April, the Greek finance ministry said.
Meanwhile, holders of such debt worth 20.3bn euros (426.5bn; £16.7bn) have agreed to accept the terms of a bond swap to lower Greece's deficit.
Hedge funds have been resisting the swap, which forces them to take losses of up to 74% on their bonds.
'Vultures'
The extended deadline applies to those institutions - include so-called distressed debt "vulture" funds - that continue to hold out.
Their hope is that Greece will think the amount is so minor that it is not worth defaulting on and pay them the full amount - which may lead to legal challenges from those who have accepted losses.
Last month, Greece got backing to cut 107bn euros from Greece's total government debt, which was a key condition for it to get its second bailout.
In the end,holders of 85.8% of debt subject to Greek law - 152bn euros out of 177bn euros - and 69% of its international debt holders agreed in March to a debt swap.
The European Union and International Monetary Fund then agreed to the latest bailout worth 130bn euros.
The aim is to cut the Greek government's debt from 160% of GDP to a little over 120% of GDP by 2020.