Government calls for new types of pension schemes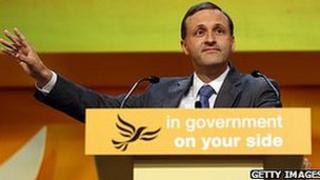 The government is exploring new types of pension schemes that would give more security to retiring workers.
Minister for Pensions, Steve Webb, says the government is looking at several options that might become, what he terms, a "defined ambition plan".
The idea is to replace final-salary pensions, which have become too expensive for many private firms.
The minister has been speaking to companies about creating a new framework for pension schemes.
'Unattractive'
In an interview on the BBC Radio 4 Today programme, Mr Webb said: "Firms would like to offer their employees some sort of certainty but without all the costs and burden they already face."
Shell recently become the last of the FTSE 100 companies to close its final salary scheme to new employees.
And one business group is uncertain about the future of any new proposed pension scheme.
"We are pretty clear that employers are going to be very nervous about anything that involves guarantees," Malcolm Small of the Institute of Directors told the BBC.
"It is going to be pretty unattractive to employers."
Final-salary schemes are popular as they deliver a guaranteed income in retirement that is linked to inflation.
But as people are now living longer, companies have seen the costs of those schemes soar.
'Certainty'
Many firms have switched to defined-contribution schemes, where members pay into investment funds.
But those plans rely on the performance of financial markets, making it hard for workers to predict their income in retirement.
"The investment returns for defined contribution schemes haven't worked." said Ros Altmann, a pensions expert and the Director General of Saga.
"The investment markets haven't worked out in a way that many people who are saving for a pension thought they would, and we are now struggling to find some way of giving workers back a bit of certainty, while employers are saying 'we don't want those risks'."
The pensions minister hopes to find a model where the risks are more evenly shared between employer and employee.
One example suggested by Mr Webb is the cash-balance scheme used by the retailer Morrisons.
Under that model an employee receives a fixed pension pot on retirement, which they then have to invest.
The government has also been looking at pension schemes in other countries where such risk sharing is more common.
Tom McPhail, head of pensions research at Hargreaves Lansdown, said the days of final salary pension schemes were "largely over".
But he said he was not convinced that Mr Webb's proposed "middle way" pension was the best way forward.
Increased pension age
Separately, the government is also looking to save billions of pounds from the bill for public pensions.
Over the next three years there will substantial increases in employee contributions.
The government is also planning to bring in new, and less generous, career average pension schemes for most public sector employees, with the pension age rising in line with the increasing state pension age, eventually to 68.
Those plans have angered unions and led to a nationwide public sector strike at the end of November.
At the end of December, some unions signed up to a set of points for further discussions.