UK trade gap widened in February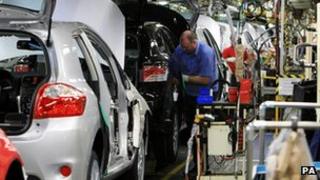 The UK's trade deficit widened in February as exports of goods to non-EU countries dropped, figures have shown.
The deficit on the trade in goods and services increased to £3.4bn from a revised £2.5bn in January, the Office for National Statistics (ONS) said.
The decrease in exports was driven by lower sales of cars (down £400m) to countries outside the EU, including the US, Russia and China.
Total exports of goods fell 3.4% in February while imports were unchanged.
The UK's goods trade deficit increased to £8.8bn in February from £7.9bn in January.
The services surplus was unchanged at £5.4bn.
Lee Hopley, chief economist at the EEF manufacturers' organisation, said the figures added to the "ups and downs" of recent manufacturing data.
"Whilst the drop in exports in February was driven by weakness in non-EU demand, this contrasts with the underlying trend of strong growth to these markets over the past two years," she said.
Last week, ONS data showed a surprise 1% fall in UK manufacturing output in February, but other surveys have suggested the sector is growing.