Francois Hollande talks tough on financial markets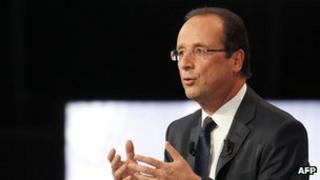 French presidential candidate Francois Hollande has said he intends to take a no-nonsense approach to financial markets and tackle speculation.
Mr Hollande outlined the need to "dominate finance" and leave investors "with no space to act".
He also criticised rival candidate and current President Nicolas Sarkozy for leaving France with too much debt.
The two men go head-to-head in the presidential election later this month, with Mr Hollande ahead in the polls.
"What I want is for us to show [not only] France but also Europe that we have a shared capacity to dominate finance," Mr Hollande said in a television interview.
"And if markets are worried, I will tell them here and now that I will leave them with no space to act."
Mr Hollande also made it clear who, in his mind, was to blame for France's high levels of debt, which have increased sharply, along with the rest of Europe, since the onset of the financial crisis in 2008.
"It's the outgoing president who brought the country to the situation it is in," he said.
"Public debt has grown by 600bn euros ($790bn; £490bn), we've lost our triple-A credit rating and we have a trade deficit of 70bn euros."
Weak growth
The socialist candidate also reaffirmed his belief that the best way to lower France's debt levels was to encourage growth.
"I've said very clearly what would be my path towards the repair of our public finances - I've said that we need more growth, because it is needed, and so I need fear no crisis," he said.
Like the rest of Europe, the French economy has slowed in recent months. In the final three months of last year, it grew by 0.2%.
Mr Hollande has advocated increasing government spending to stimulate growth.
However, Mr Sarkozy argues that austerity is the best way to bring debt levels down.
"If we start hiring civil servants, if we start spending again... it's not a risk that interest rates will rise, it's a certainty," Mr Sarkozy said on Wednesday.
"It would immediately set off a crisis of confidence."
The first round of voting for the presidential election takes place on 22 April, with the run-off on 6 May.