Infosys shares slide on weaker-than-expected outlook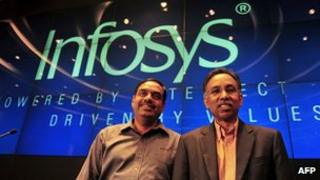 Shares of Infosys, India's second-largest software company, have fallen after it issued a weaker-than-expected outlook for the current financial year.
The stock dropped as much as 10% to 2,451.25 rupees on the Bombay Stock Exchange.
The firm said it expected revenue to grow between 8% and 10%, lower than the forecast of a 10% to 15% increase.
Infosys reported a 27% rise in profits for the first three months of the year to 23.2bn rupees ($451m; £283m).
"The numbers are disappointing and definitely lower than expectations," said Dhiraj Sachdev of HSBC Asset Management.
"Clearly there is no immediate recovery in sight for the industry with expectations that the environment will continue to remain challenging."
Challenging times
The numbers come as India's software companies have been facing tough times, not least due to a slowdown in some of their biggest markets such as the US and Europe.
At the same time, growing opposition, especially in the US, over outsourcing of jobs has fanned fears about the future growth in those markets.
To make matters worse, India's currency has seen high volatility in recent months, which has also affected the earnings of software firms.
Over the past four months, the Indian rupee first strengthened by 14% against the US dollar, before falling 6%.
The high volatility, which especially hurts firms such as Infosys who derive most of their earnings from overseas, is one of the biggest hurdles to their growth.
"The global currency market volatility continues to be a challenge for the industry," said V Balakrishnan, chief financial officer of Infosys.