Standard & Poor's reaffirms UK's AAA credit rating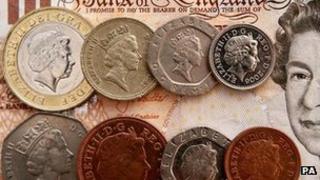 Ratings agency Standard & Poor's has reaffirmed its AAA credit rating for the UK, saying it believes the economy is "wealthy, open and diversified".
S&P also confirmed a stable outlook, as it expects the government to implement the bulk of its austerity measures.
The other two major ratings agencies, Fitch and Moody's, have placed the UK's top rating on "negative outlook", warning that it could be downgraded.
They have cited concerns about growth prospects and public-debt levels.
A credit rating tends to determine what a country pays to borrow - though that influence can be outweighed by other factors.
'Weathering the storm'
S&P said in a statement: "In our view, the UK has a wealthy, open, and diversified economy, supported by a well-established political system and macroeconomic policy framework, which can react quickly to economic challenges.
"We expect economic policy to focus on closing the fiscal gap, and we forecast the government's net debt burden to peak in 2013 [at about 87% of GDP]."
Chancellor George Osborne said: "This is a reminder that Britain is weathering the international debt storms because of the policies we have adopted and stuck to in tough times."