India inflation little-changed as rate decision looms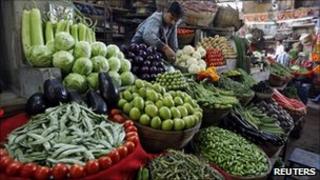 India's inflation rate was little-changed in March, making a decision on interest rate cuts more complicated for the Reserve Bank of India (RBI).
Consumer prices in country rose by 6.89% from a year earlier, compared with 6.95% in the previous month.
The RBI has been under pressure to cut its interest rates amid a slowdown in India's economy.
However, high consumer prices, especially that of food and fuel, have been a key political issue.
There have been concerns that a cut in the cost of borrowing may spark a rise in consumer prices, which have started to come down in recent months.
The RBI is scheduled to announce its latest interest rate decision on Tuesday.
"We expect RBI's statement to be slightly on the hawkish side, highlighting suppressed price pressures on inflation," said Kumar Rachapudi of Barclays Capital.
However, Mr Rachapudi added that despite the inflation risks, the bank may cut interest rates citing "growth risks both domestically and globally".