Citigroup quarterly profits decline to $2.9bn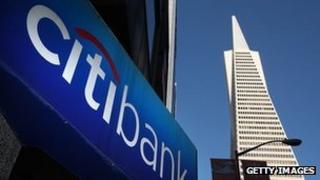 US banking giant Citigroup has said its quarterly profits have declined amid "uncertainty" over the global economy.
The bank's net income declined 2% to $2.9bn (£1.3bn) in the first three months of the year from last year.
Revenues rose 4% to $20.7bn, boosted by the sale of stakes in an Indian mortgage lender and a Chinese bank.
"While the operating environment improved in the first quarter, there is still much macro uncertainty," the bank said.
The bank took charges of $1.3bn during the quarter after revising down the value of its debt and derivatives, which it blamed on the "tightening of Citi's credit spreads", meaning their bets on their own creditworthiness.
"Global consumer banking, our largest business, produced another quarter of good growth in revenues, net income and key drivers like loans and deposits," Citigroup chief executive Vikram Pandit said.
Citigroup's total allowance for loan losses was $29bn, or 4.5% of total loans, compared with 5.8% in the same period last year.
"I think the way to look at Citigroup is that there has been a rebound in the capital markets business," said Gary Townsend, chief executive from Hill-Townsend Capital.
The bank made $1.1bn on the sale of its remaining stake in India's Housing Development Finance Corporation and $542m of its stake in Shanghai Pudong Development Bank.
Citigroup is the third-largest US bank by assets.