India cuts main interest rate to 8% to help lift growth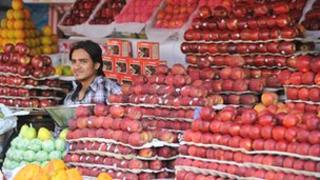 India has cut its main interest rate for the first time in three years in a move that may signal a shift in focus to growth from inflation.
The Reserve Bank of India (RBI) lowered its key rate to 8% from 8.5%.
Analysts had expected a smaller, quarter of a percentage point rate cut.
However the central bank, which had increased interest rates 13 times since March 2010, said that growth was now at levels that warranted a bigger intervention.
Especially as India's domestic and foreign business environment was not improving as quickly as many people had hoped following the global economic crisis, and was being hamstrung by continuing problems in the eurozone.
The reduction in the interest rate "is based on an assessment of growth having slowed below its post-crisis trend rate," said RBI governor Duvvuri Subbarao.
According to the latest figures, India's gross domestic product expanded by 6.1% between October and December, from a year earlier, the weakest pace of growth in almost three years.
Inflation scenario
On top of this, a report on Monday showed that consumer prices rose by 6.89% in March from a year earlier, down from 6.95% in February.
"It is apparent that the central bank's main concern is more on the growth side rather than inflation, and this surprise cut is certainly in order to give a fillip or a boost to growth," said Devendra Pant of Fitch Ratings.
However, despite this the bank warned that inflation still remained a challenge.
"Food inflation, after a seasonal decline, has risen again," the RBI warned in its statement.
"Crude oil prices are expected to remain high and the pass-through of past price increases in the international market to domestic petroleum product prices remains significantly incomplete."
As a result, some economists expect today's rate cut to be the last one for 2012.
The "RBI is indicating that there is limit for further rate cut expectation, and I think they are pretty much done with further rate cuts this year", said Rajeev Malik who is an economist at CLSA in Singapore.