Italy leads drop in EU car sales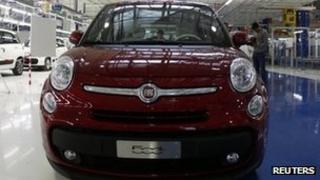 Car sales in Italy were down 26.7% in March compared with a year earlier, leading the falls in European car sales.
Registrations across the EU were down 7.0% to their lowest March level since 1998, according to an Association of European Automakers (ACEA) report .
March is traditionally the strongest month for car sales across the 27-nation bloc.
It was the sixth consecutive month of falling European car sales.
The second biggest decline came in France, where sales were down 23.2%.
Italian and French carmakers were hit by the declines in their home markets, with deliveries from Fiat down 26%, PSA Peugeot Citroen down 19% and Renault down 21%.
Sales were up in Germany and the UK in March, with increases of 3.4% and 1.8% respectively.
German carmakers also managed to increase their sales, with Volkswagen up 1.3%, BMW up 3.1%, and Daimler up 4.3%.
The figures covered the 27 EU countries, excluding Malta for whom figures were unavailable.