Heineken hit by higher barley prices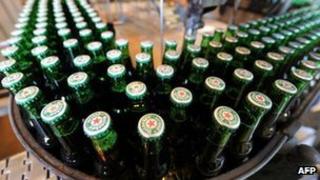 Europe's biggest brewer sold more beer than had been expected in the first three months of the year, but was hit by higher costs.
Heineken sold 4.7% more beer by volume in the first quarter than it had in the first quarter of 2011.
But it said that higher raw materials had hit its profits.
It reported a net profit of 175m euros ($229m; £144m), but that includes an exceptional 20m-euro gain from the revaluation of its Haitian business.
Heineken said that higher prices for malted barley would push up its input costs by about 6%.
It is the world's third-largest brewer and the first of the big four to report quarterly results.
SABMiller will report on Thursday and Anheuser-Busch InBev results are out on 30 April.
Denmark's Carlsberg will report on 9 May.