eBay sees quarterly profits rise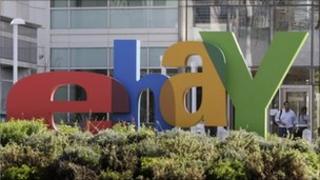 Online retailer and auction site eBay has reported an increase in first-quarter sales and profit.
EBay said first-quarter profit was $725m (£453m), up from $619m a year earlier. Revenue was $3.3bn, up 29% on 12 months ago.
Results were again boosted by strong performance from its online payments unit Paypal, which accounted for about 40% of total revenues.
EBay's shares, down by 0.58% at close, rose by 3.2% in after-hours trading.
The company's chief executive, John Donahoe, said it had been a "strong start to the year".
"We believe that innovation in retail today is technology driven, and consumers are embracing smarter, easier, better ways to shop," he added.
"We are enabling commerce in this new retail environment, supporting and partnering with sellers of all sizes and giving consumers worldwide the ability to shop anytime, anywhere, for whatever they want."