France faces uncertain future as economic pressures mount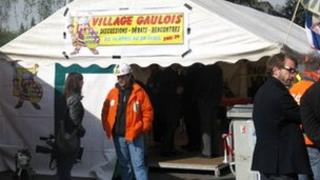 The town of Florange, in north-east France, is normally a pretty quiet and sleepy sort of place.
But over the past few weeks it has become a focal point for angry opposition to President Nicolas Sarkozy - and been drawn into a bitterly fought presidential campaign.
The town sits at the heart of the heavily industrialised region of Lorraine. For generations, this part of France has been associated with the steel industry, and Florange is no exception.
It is dominated by a huge complex operated by the steel giant Arcelor Mittal.
The plant is a profitable one, but nevertheless there have been doubts over its future for some time. Last year the company decided to idle its blast furnaces, in response to a decline in demand for steel caused by economic problems in Europe.
The company insists it will restart the furnaces when demand rises.
But staff fear that the factory will suffer the same fate as another Arcelor Mittal plant, in nearby Gandrange, which closed its doors in 2009.
Earlier this year, a group of workers travelled to Paris, wanting to speak to President Sarkozy. But as they marched towards his home, they were greeted by riot police.
Scuffles broke out and the police fired tear gas to disperse the protest.
A few weeks later, a group of union activists set off for Paris once again, this time on foot.
It took them nine days to reach the Eiffel Tower, a symbol of French pride wrought by the workers of Lorraine.
The stunt worked, capturing the public's admiration and drawing more national attention to their protest. Now, the workers have set up a camp outside the Florange plant, under the watchful eyes of a team of well-built security guards.
Asterix-inspired
They call it a "Gaulish village", in homage to the French comic book hero, Asterix the Gaul.
Wearing comic wigs and moustaches, they say they are the heroic Gauls, standing up to the oppressive Romans of Arcelor Mittal's management.
But their message is not just directed at the steel company. Instead, they are turning their attention to the presidential race.
"First we want Nicolas Sarkozy out," says one worker. "Then we need a new industrial policy.
"If Francois Hollande tries to continue with the same policies, the same methods, then we will face a social catastrophe, a major collapse of our industry."
There's no doubt people within Lorraine are deeply concerned over the future of the plant. It provides 2,700 jobs in a region where industry is in decline and unemployment is high.
Arcelor Mittal, meanwhile, continues to insist it has no plans to close Florange. In fact, it says it is planning to invest $22m (£13.7m) in the facility.
But such matters have become almost irrelevant because this now goes beyond a regional dispute. For many, it has come to symbolise a deep malaise within the French system.
'Declining'
France has a long tradition of supporting industry and promoting the welfare of workers. Its trade unions are powerful, and commercial considerations are often seen as secondary to the protection of livelihoods.
"For the workers, we are worried because the factory - our factory - can be destroyed by a financial decision," says Frederic Weber of the CFDT union.
"The workers find that very hard to understand."
Yet as France struggles with a stagnant economy and unemployment of nearly 10%, and as the cash-strapped government attempts to rein in its hefty budget deficit, those traditions are coming under threat.
Increasingly, there are calls for deregulation, to make it easier for businesses to operate, and for the burden of social costs to be reduced. Otherwise, so the argument goes, large companies will take their business elsewhere, to countries with lower costs.
"I think that France is really declining on an economic and social level," says Nicolas Baverez, an economist and forthright commentator for the magazine Le Point.
"There is a real risk that by 2020 France will no longer be counted among the 10 most powerful global economies - unless we implement major reforms."
But others disagree.
Louis Schweitzer is chairman of the pharmaceuticals giant AstraZeneca. He agrees that change is needed, but thinks the French model can survive if it becomes more adaptable.
"Clearly we aren't going to reduce our wages to the Chinese level, or the Romanian level," he says.
"But Germany and Scandinavia have high wages, similar to French wages. So you can be competitive in a global economy, with a high standard of living."
'Challenge'
Certainly the prospect of deep reform is an uncomfortable one in France. Many commentators believe that the popularity of the left-wing firebrand Jean-Luc Melenchon owes a great deal to fears that jobs will fall victim to market forces.
Yet among the nation's small businesses, there is a perceptible desire for reform.
Companies with fewer than 500 employees account for about 60% of all jobs in France, yet many entrepreneurs complain that they find it difficult to build up their businesses because of high costs and red tape.
Among them is Sebastian Richard, who runs a dairy farm in the Vosges mountains above Strasbourg.
The region is a tourist's paradise.
It is a beautiful area, where pretty, brightly coloured houses and chalets nestle in the lush wooded valleys, surrounded on either side by rolling hills.
Visitors to the region provide a brisk trade for Mr Richard, who sells milk and cheese in his shop and in local restaurants.
But he is a frustrated man.
"The biggest challenge is to earn money," he says.
"When you start up, you can make some cash. But the next year you have to pay a lot of tax. Then if you want to employ someone, it's really hard because there are so many rules and regulations.
"It's really hard to build up your business."
His voice may not be as audible as those of the Florange protesters, but taken together, the nation's small businesses do represent a powerful lobby.
So as the economic tensions in France mount, the voices for and against reform are likely to make themselves heard ever louder.
How the next occupant of the Elysee Palace balances those pressures, and whether or not he or she can retain the confidence of workers while making life easier for businesses may well come to define the next presidency.