Petrol prices rise after brief halt, AA says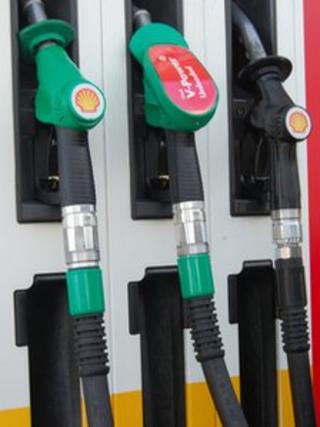 The average petrol price has risen to a new high of 142.48p per litre after a brief halt to weeks of rises, motoring association the AA says.
The average price of diesel, at 147.88p a litre, is just short of the record price set a week ago.
Petrol prices have risen by 10.23p a litre and diesel by 7.32p a litre, since the beginning of this year.
The AA blamed speculators for pushing up oil prices and said the government should do more to tackle the problem.
AA president Edmund King said: "Panic buying in March forced some cash strapped families to spend far more on fuel than their budgets could bear.
"Filling up a 50-litre tank costs more than some families spend on food each week. This panic buying masked a more persistent threat further up the fuel chain."
In the past month, petrol prices have gone up 3.98p a litre and diesel 2.43p a litre.
Petrol cost 135.29p a litre a year ago and diesel 141.60p per litre.
'Well supplied'
"Speculator driven oil prices have crashed petrol demand," Mr King said.
The demand for petrol in the UK was down 20% on pre-credit crunch levels and in the US in January was back to 2001 levels.
This has resulted in refinery closures on both sides of the Atlantic.
The International Energy Agency and Opec (the Association of Oil Producing and Exporting Countries) said last week the global oil market was "well supplied".
Mr King said the pressure to maintain petrol wholesale prices at or just below record levels and kill even more consumer demand was "absurd and incomprehensible".
Speculative activities should not push oil prices to such an extent that it adversely affects the overall demand, Mr King said.
"To help the 35 million UK drivers, the government should address the current destructive tendencies in the oil and road fuel markets," he said.
"Greater transparency would be a good start."