Alibaba.com profit slides 25% on slowing subscriptions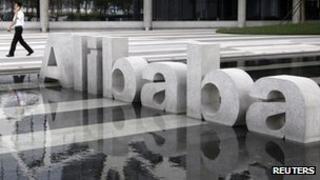 Alibaba.com has said its profit in the first quarter dipped by 25% amid falling membership sales and higher operating costs.
It reported a net profit of 339.2m yuan ($54m; £33m) for the period, down from 452.2m yuan a year earlier.
The firm, which connects buyers and suppliers, said numbers of paid members fell as it imposed strict control over businesses that list on its website.
Alibaba.com is China's largest listed e-commerce firm.
"In the first quarter, we remained focused on our goal of providing exceptional buyer and seller experiences by enhancing the quality and depth of product and company information available on our platforms," said Jonathan Lu, CEO and executive director of Alibaba.com.
"As expected, our continuing investment in upgrading our business model and our higher membership standards for suppliers has negatively impacted our financial performance."
Privatisation plans
In February, Alibaba group, the parent company of Alibaba.com, announced that it planned to buy back shares in a bid to take the company private.
The firm's founder Jack Ma said that such a move would help to the firm take decisions that were "free from the pressures that come from having a publicly listed company".
On Monday, an independent board committee and a financial adviser appointed to look into the matter, advised the shareholders to approve the company's plans.
"We consider the terms of the privatisation proposal to be fair and reasonable," said Somerley, the financial adviser.
The company has offered to pay shareholder HK$13.50 per share, a 46% premium over the company's share price on the last day before the announcement of the buy-back plan.