Novartis reports sharp fall in profits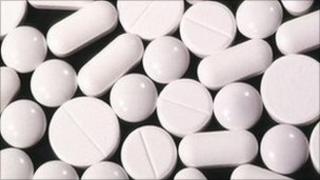 Swiss drugmaker Novartis has reported a sharp fall in profits, due in part to manufacturing problems at a US plant.
Net income for the first three months of the year was $2.33bn (£1.44bn), down from $3.41bn a year earlier. Net sales fell 2% to $13.74bn.
Sales at the firm's Sandoz division, which account for 15% of overall sales, fell sharply due to greater competition for its anticoagulant drug Enoxaparin.
The company said new drug testing was going well.
"Group net sales performance was impacted by Sandoz, which was up against a strong year-ago base with Enoxaparin exclusivity, and by consumer health, which was impacted by the suspension of production at the Lincoln, Nebraska, manufacturing site," said chief executive Joseph Jimenez.
The company said sales had also been affected by a strong US dollar.
Earlier this year, Novartis said it was cutting almost 2,000 jobs in the US due to the impending loss of its patent on blood pressure drug Diovan and expected lower sales of one of its hypertension drugs.
Other pharmaceutical firms have also cut their sales forces as the industry faces a wave of patent expiries.