Apple doubles quarterly profits to $11.6bn (£7.2bn)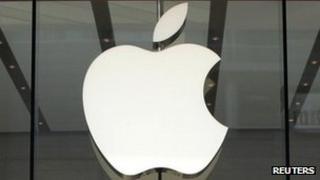 Apple has reported its profits almost doubled in the first three months of the year.
Apple said its net profit came in at $11.6bn (£7.2bn), up from $6bn in the same period last year and much better than had been expected.
The technology giant sold 35 million iPhones in the quarter, which was also almost double the level from a year ago.
Apple shares rose more than 7% to $601 in after-hours trading.
To put its results in perspective, Apple's profits are now more than Google's quarterly revenues of $10.65bn.
Microsoft, the world's largest software firm, has quarterly revenues of about $17bn.
Google and Microsoft make Android and Windows Phone respectively, which are rivals to Apple's iOS platform.
'Blowout quarter'
"Apple had a blowout quarter," said JJ Kinahan, a strategist at TD Ameritrade. "There were already high expectations and they blew the expectations away."
Apple sold 11.8 million iPads, 150% more than the same period last year.
Chief executive Tim Cook, speaking on the conference call, said that almost 67 million iPads had now been sold - it took the company 24 years to sell as many Mac computers and three years to sell that many iPhones.
"The new iPad is off to a great start, and across the year you're going to see a lot more of the kind of innovation that only Apple can deliver," he said.
The strong results followed a 13% fall in its share price in the past few weeks.
Some analysts had predicted that iPhone sales would be weak, suggesting that phone companies had reined in their sales.
"We're thrilled with sales of over 35 million iPhones and almost 12 million iPads in the March quarter," said Mr Cook.
Apple now has $110bn in cash. In March, the tech giant said it would use its cash to start paying a dividend to shareholders and to buy back some of its shares.
It expects to use $45bn over the next three years.
Apple's shares recently touched a high of $644, surpassing $600bn in market value and affirming its position as the world's most valuable firm.
The iPhone maker's shares were worth as little as $3.19 in 1997, when it faced the possibility of bankruptcy.