Sports Direct sees 'strong growth'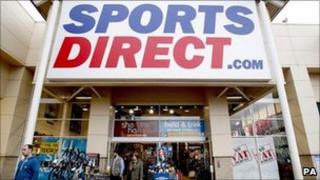 Sports Direct has reported "strong growth" in quarterly sales and profit and said it is looking forward to a boost in trade from this summer's landmark events.
Group sales for the nine weeks to 25 March were up 13.2% on the same period a year ago to £267.6m.
Gross profit was up 13.5% on the year to £99.8m.
The results were ahead of expectations, and shares in the retailer closed up 2.1%.
Founder - and Newcastle football club owner - Mike Ashley has been granted a "super stretch" shareholder bonus scheme, which gives him eight million shares in 2018 if certain performance criteria are met.
The firm had previously proposed a bonus of six million shares.
Sports Direct said it would seek shareholder approval for the bonus.
"The group has continued to deliver strong growth during February and March, outperforming management's expectations," said chief executive Dave Forsey.
"We remain positive about the group's outlook and are excited about the summer ahead with the Diamond Jubilee, Euro 2012 and the London Olympics."